Mette is passionate about making beautiful hair that suits the individual customer. She is a perfectionist at her fingertips, and creative. You can say she's a nerd in her field.
Mette took her 4-year hairdressing education atHerningsolm School where she achieved a good understanding of the subject and specializes in men's haircuts, curly hair and color treatments.
When you are in the chair with Mette, you get a competent and comfortable experience. Her mood and humor are contagious. Remember to book well in advance.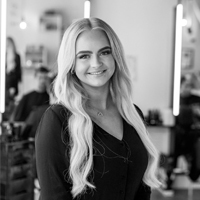 Louise Hannibal Jørgensen
Makeup Artist
Student / Hair
Louise is our smiling and energetic student. She is already a trained hair and makeup artist at the Nicci Welsh Makeup Academy in Copenhagen and generally has a great knowledge and interest in hair, beauty and styling.
With an ambitious approach to her education, she already mastered several treatments to perfection, and she always has the client in focus
Emil and Rasmus Vilain Albrechtsen
Emil and Rasmus are the creators of the Slikhaar concept and owners of the Slikhaar Studio.
With a desire to inspire people to become a better version of themselves, they want to give customers a sublime and different hairstyle experience by, being innovative, inspirational and service minded.
Emil and Rasmus are not hairdressers themselves, but have a great passion for the profession. They are perfectionist and take pride in providing their very best with the entire hairdressing team.
See You Soon in Slikhaar Studio, Mejlgade 37.