Slikhaar Studio in Aarhus
Slikhaar Studio is OPEN at our new location: Sankt Knuds torv 3b, Aarhus C


We hope to see you soon.
Slikhaar Studio is a highly professional and trendy hair salon in the center of Aarhus. The salon has a focus on creativity, quality, and fantastic customer service. Slikhaar Studio first has been closed for the past two years but is now open for business in our new location at Sankt Knuds torv 3b, Aarhus C
.
Our fantastic team of talented hairdressers, are ready to give both men and women s first class service every day. They are experts at everything hair-related involving styling, cutting, barbering, putting hair up for special occasions and colour, which you will notice the moment you walk through the door.
At first glance, Slikhaar Studio might look like a normal hair salon, but if you look a little closer, you will see that it is a powerhouse of a business, which is based on a raw passion for hair in combination with the desire to do something new in an otherwise traditional industry.
You might also already know that Slikhaar Studio is an important part of an exciting business model, which on top of the salon also produces a professional and Danish-designed line of hair products for men, By Vilain. Furthermore, the Slikhaar concept has one of the world's leading YouTube channels, Slikhaar TV, which inspires and supports a masculine universe for hair, lifestyle and fashion, as well as the international web shop slikhaarshop.com. As an international business concept, Slikhaar's clientele comprises the whole world, and you can feel it in our little salon when a cruise ship comes into Aarhus Harbour.
We hope to make a difference and make things easy for you! On this website you can find everything you need to know about our concept and staff, and book a time whenever it suits you.
Our biggest priority is to give you a first class service and ensure that you have an incredible hairdressing experience! We therefore offer you expert guidance in the form of an initial conversation and ensure plenty of time for the subsequent treatment, so we can provide great satisfaction and the best possible results.
Our hairdressing team are extremely excited about their discipline. They are passionate about their skills, as well as up to date on the newest trends and movements in the hairdressing industry, so they can provide the best possible guidance and service for you.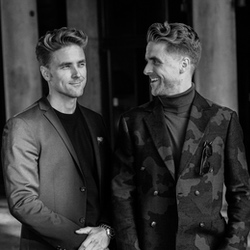 Emil og Rasmus Vilain Albrechtsen
Owners
Remember that you are always welcome to check out our Instagram @SlikhaarStudio_aarhus and follow what we are up to in the salon. That's where you'll find the latest updates, offers and behind the scenes action in a place where hair trends are the highest priority.